•  Free Ballot Draw for 2 'Summer in the Park' Wristbands Sponsored by DOWNTOWN NORTH BAY (DIA) 'Do it All Downtown' www.downtownnorthbay.ca
•  Strawberry Treats & Refreshments Provided by Chartwell Barclay House Retirement Residence
•  'Making the Most Out of Our Local Veggies' with Dr. Dielle Raymond
•  Live Music with 'BEARCLAW' Bob Barraclough
•  Ken the Balloon Dude & Face Painter Melissa Sohm
•  North Bay Farmers' Market 'Pin the Stem on the Strawberry Game'. Everyone Wins!
•  Special Strawberry Social Prizes from SpringHill Farms Garden Centre & Berry Farm
•  Fresh Picked Local Strawberries from Leisure Farms
•  Strawberry Danish from Marlene's Bread & Buns
•  DEW'S Pop & Corn – Strawberry Tea, and Strawberry Short Cakes
•  Strawberry Rhubarb Pies & Strawberry Almond Slab from C J Pies 'n' More
•  Gluten Free Strawberry Tarts from Happy Tummy
•  Leisure Farms Fresh Picked Strawberries
•  Strawberry Loofa and Strawberry Lip Balm from Dirty Girls Farm

*Click the above blue links to find out more
*While supplies last.
*All festivals and events are subject to cancellation or change, due to weather and unforeseen circumstances.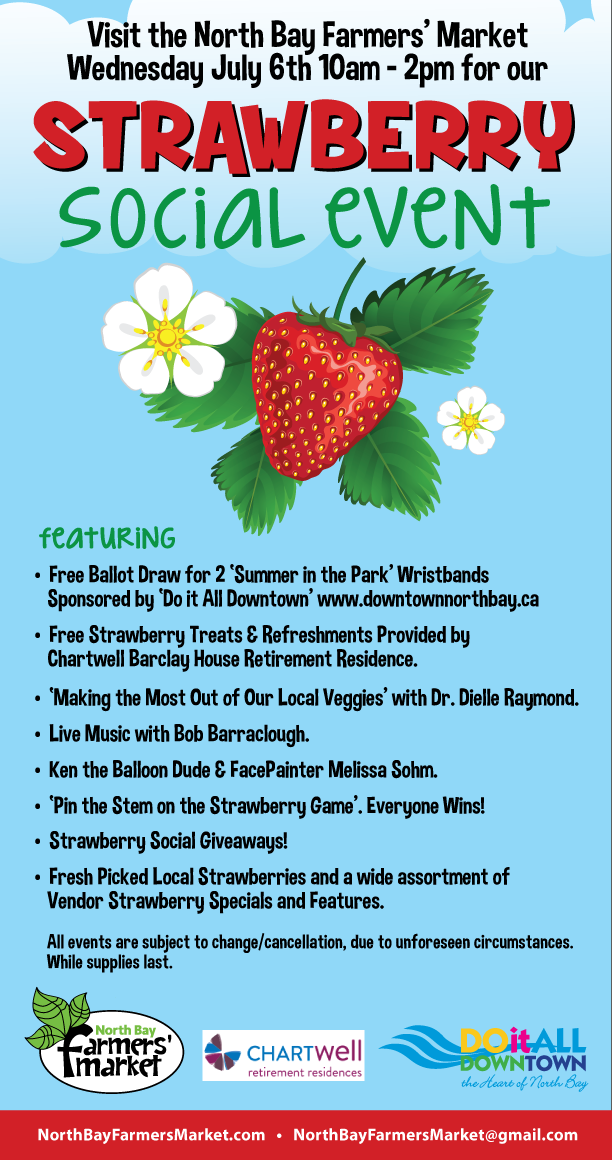 Check out our events section for more information!