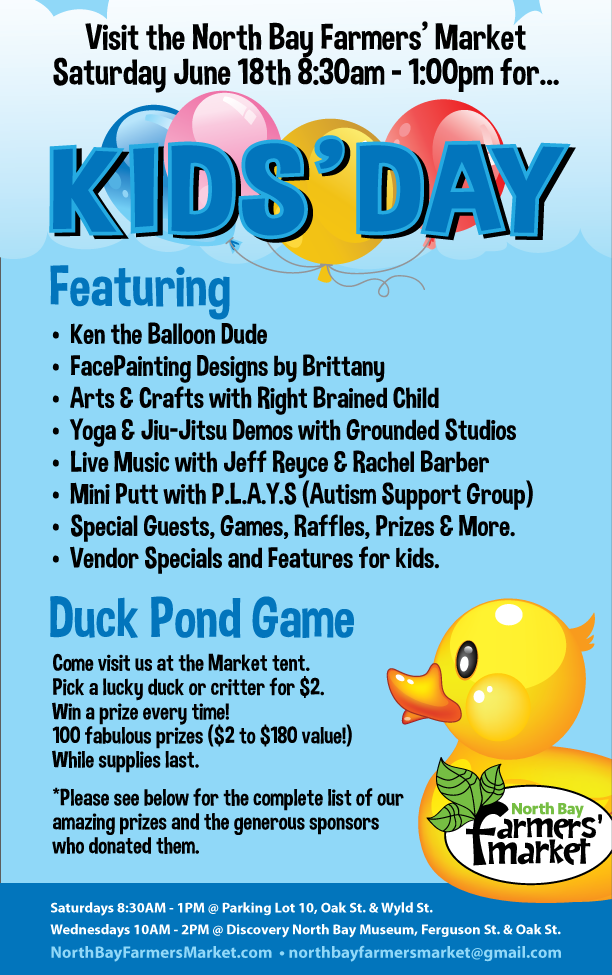 PRIZES & SPONSORS LIST FOR KIDS' DAY
• Voucher for 1 week free attendance to Nature & You day camp for one participant on the week of July 4-8, 2016. www.natureandyou.org
• Free face painting for kids birthday party by Designs by Brittany
• Free family lifestyle mini portrait session with Little Lisa Big Designs (5-10 photos)
• Vouchers for Ken the Balloon Dude Party Packages
• Gift card & farm tour from The Deehan Family Farm
• Free family passes for Leisure Farms Pumpkin Festivites, includes: wagon ride to the bush, marshmallows to roast on fire, small pumpkin to decorate, hot chocolate and a cookie
• Free passes to kids events at the North Bay Capitol Centre
• Homemade organic banana chips from Midlothian Valley Farm
• Homemade Maple Suckers from Matthew's Maple Syrup
• Crochet Minion hats by Simply Basic
• Homemade cookies and candy suckers from Cindy's Sweets
• Free passes for kids event 'Night of the Ninjah' Nerf War by Grounded Studios
• Free passes for kids Yoga workshops hosted by Grounded Studios
• Free bike, board or ski tune up from Cheapskates
• Free homemade, natural Ice Teas and Popcicles from The North Star Travelling Cafe.
• $20 Gift Card, Shrinky Dinks kit and Find It game from Creative Learning
• $25 Gift card from Right Brained Child
• Various handmade feltie magnet characters Made by Roo
• Soap making kits by Lakeside Acres
• Free handmade apron by G's Bibs & Things
• 'See Me' children's books by Joanna Boldt
• Rainbow soaps by Dirty Girls Farm
• Vouchers for Martha's Fry Pies (made from scratch with real fruit)
• Designs by Brittany custom t-shirts
• Free pop and popcorn from Dew's Pop and Corn
• Free hula hoop from Global Groove Dance
• Natural Bug balm & chapstick from Board's Northern Nectars
• Wooden Duck Pull Toy from Local Matters
• Discount vouchers for 18" handmade doll clothes by All Dressed Up
• Vouchers for self serve frozen yogurt from Yogurtz
• Prize packages from P.L.A.Y.S. Autism Support Group
• (10) $5 Market Bucks
• (25) Various Farmers' Market button pins
NBFM COLOURING CONTEST FOR KIDS
Colour the downloadable sheet and bring it down to the market, drop it off at the community booth and you'll have a chance to win some prizes. There are two age categories. One entry per person please. First prize wins $10 worth of North Bay Farmers' Market Market Bucks, and a suprise cup from Ken the Balloon Dude, Second place wins $5 worth of North Bay Farmers' Market Market Bucks and a surprise cup from Ken the Balloon Dude and Third Place wins a surprise cup.
CLICK THIS LINK BELOW TO DOWNLOAD THE COLOURING SHEET
NBFM coloursheet